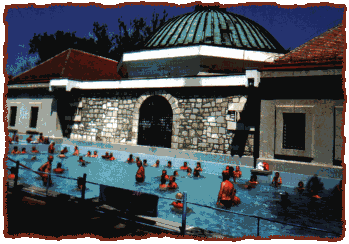 Eger. Truely one of Hungary's most attractive towns, famed for its medieval and Baroque historical monuments. One of the country's largests castles sits overlooking the town, its fame lies in the fact that it repulsed a massive Turkish siege in 1552 and only fell many years later. The Turks then constructed baths around the local springs, one of these still operates today. Other sights of the town are Baroque churches, Basilica and the Turkish minaret.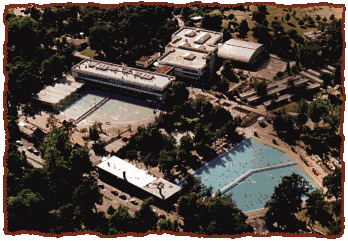 Harkány is 26 km-s from Pécs, a large cultural centre. The highly efficacious medicinal water was discovered by chance. During excavation work to lay a drain the water broke to the surface and the men who worked knee-deep in the water found that in just a few weeks aches and pains in their legs disappeared. The friendly little settlement manages a busy tourism turnover comprising foreign and Hungarian patients and guests.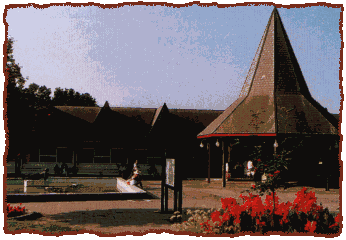 Gyula lies on the South-Eastern corner of the Great Plain, close to Romania. Wells feed the open and covered pools of the Vár Baths situated in a vast park area with alkaline, iodine and bromide waters. The town is known for having Hungary's only plains fortress which nowadays hosts a theatrical festival in the summer months. Gyula is also the birthplace of some famous Hungarians, among them Erkel Ferenc who composed the Hungarian Anthem.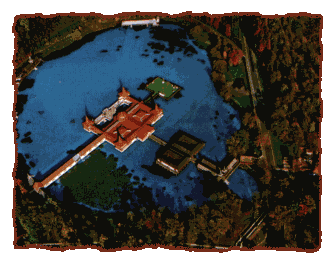 Héviz ranks as the largest and best-known spa town in Hungary. It is only 6 km far from Keszthely, from Lake BAlaton. There was a spa here during the Roman times, while the first written references from Héviz date from the 14th century. It is famed from its unique thermal lake with a surface area of 4.7 hectares and at its deepest 34 meters. The influx of water from underground springs is so great that the entire volume is changed every 28-30 hours, and the process is unending.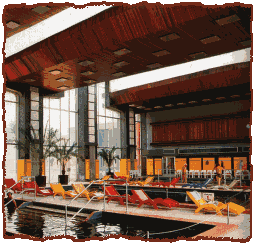 Oil prospectors conducting test drilling in 1925 hit upon a iodine-bromine salt thermal water,in the process changing the life of a small town, Hajdúszoboszló. Although the first bath was built in a few years, the real rush to develop only happened in the following 40 years. The bath was constantly expanded, modernized, and more pensions and hotels established among them hotels with their own baths and medical facilities.